windsurfjournal mars 2014
Planchemag dec 2012 AFF Finale St Malo

Planchemag dec2012 Longues distances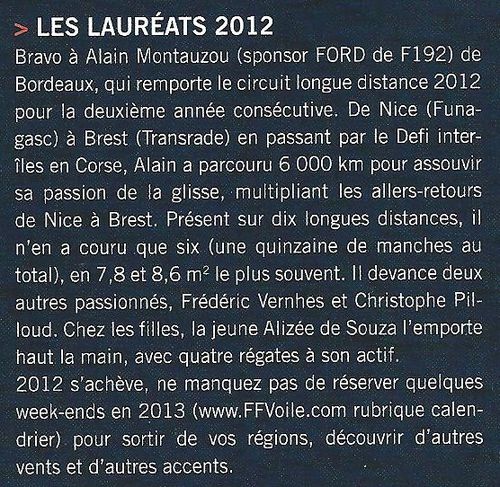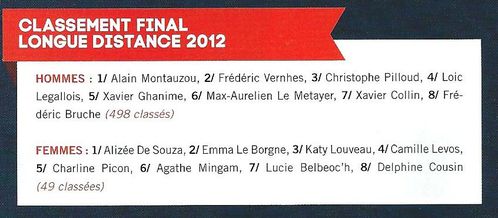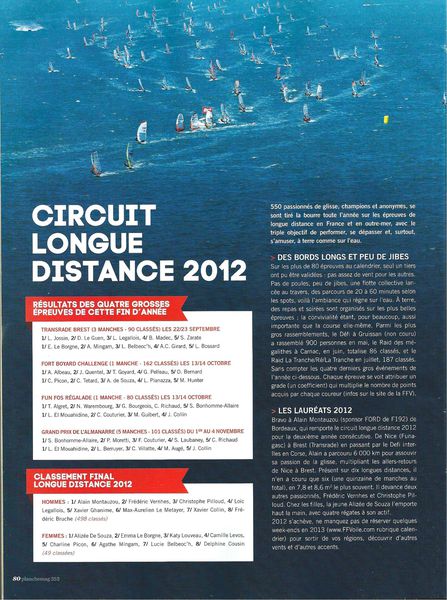 Sud-ouest juillet 2012

Sud Ouest 20avril 2012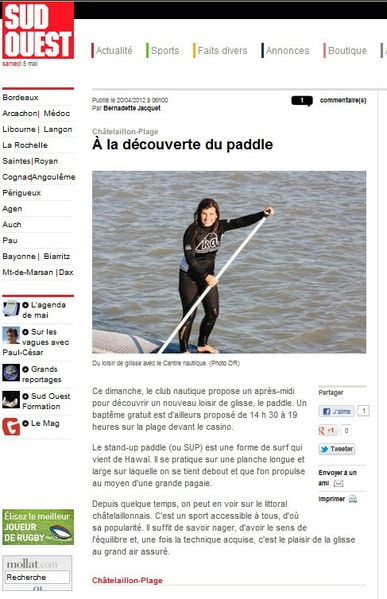 Chatelmag Avril 2012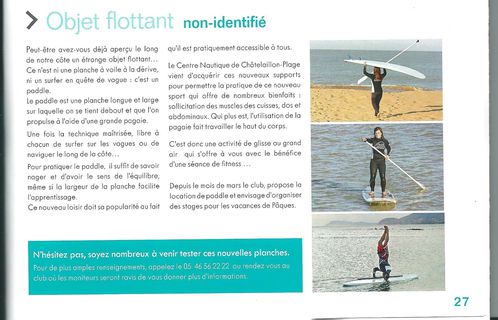 TODAY's PORTRAIT
Alizée De Souza, 16 years and 1st girl amateur – France
While we were looking at the results posted on the official board, we met the young Alizée. By seeing her classification, 141th, this cute little girl was very excited. She can be proud, 141th over 800 windsurfers, it is a great performance! But the most beautiful performance is that she ended 5th in the girls category, 8 places just behind the pro Fanny Aubet! Alizée also got the 1st "young" place and 1st "amateur" place in the girls category.
"My father put me on a windsurf board when I was 4 years old. All my family is windsurfing and every summer, we go on trip together to go sailing. I started local competitions when I was 9 and took part on national events 3 years later. My first Defi Wind was last year. The wind was strong and I sailed with a very small wave sail. I ended 443rd. This is why I am so satisfied of my result this year! In fact, yesterday, it was important to choose the right gear and with a board of 120 liters and a 6.4 slalom sail, it was perfect. If I had a message to pass to the other young people who wish to make the Defi ? Choose well your equipment before the departure and then have a maximum of fun, even if you do not end all the races."

YESTERDAY's RESULTS
If the final classification is not still completely established (800 persons to classify in each category it takes time !), we can give you the first 5 men and first 5 women.

Men(People)
1/Patrick Diethelm (Italy)
2/Bieuzy Mauffret (France)
3/Laurent Gaüzère (New Caledonia)
4/Tine Slabe (Slovenia)
5/Sébastien Bonhomme Allaire (France)
Women
1/Karin Jaggi (Switzerland)
2/Marion Dusart (France)
3/Sarah Hébert (Armenia)
4 / Fanny Aubet ( France)
5/Alizée de Souza (France)
Defi Wind 2011 – Final Report
Unfortunately there was no more wind over the weekend down in Gruissan for Defi Wind 2011, so the winners of Friday's racing have been named event winners. Steve Palier reports, pictures by Jean Souville…
DEFI WIND 2011 HIGHLIGHTS
- Great comeback from former competitor Laurent Gaüzère on this Defi Wind. Leader of the pack at the first mark, he unfortunately falls. Bieuzy Mauffret passes through and then fight with Patrick Diethelm who finally take the first place at just 100m from the finish line!
- Patrick Diethelm was not registered on the Defi. He was part of the PWA event in Costa Brava that was happening in the same time. At the last minute, the Italian finally came to Gruissan to join the 850 competitors and feel the atmosphere of the event. Great idea as he took the honours! He'll come back, he said.
- 'Girl Power!': girls were honoured on this 11th Defi Wind. Pro Karin Jaggi, ranked 79°, got the 1st place in the women category but the big surprise comes from Marion Dusart, ranked 82° ahead of Sarah Hebert, 120°. Great performance from Young Alizée De Souza, 16, as she reaches the 1st place in the « Young » category thanks to a nice 141° place, ahead of Delphine Cousin (142°).
- Youths were numerous on this 11th edition. More than 100 participants full of motivation and present on all animations and contests. Ranked 8th overall, Thomas Goyard is the young rider to watch among this new generation. He got 1st in the « Young » category ahead of Steve Laubaney, and 3rd in the « Amateur » category.
- The « Movies Festival » impressed again with a great video program, radical images and with the présence of stars like Jason Polakow and Levi Siver but also Sylvain Demercastel, Julien Taboulet and Leo Ray. The best amateur reward went to Olivier Martin, whose « home made » funny movie delighted the public.
- With a dozen of local music bands playing live on the beach every afternoon, the nights were definitely really hot as groups like 'Las Vegas Wedding', 'Trafiko' and 'Nasser' entered the scene!